MARGIE SEAMAN is an eighty-five-year-old late-blooming
author of her debut novel

Someday Belongs to Us
.

It's never too late to find love on the high seas.
KATE CALDWELL did not expect to find romance at this point in her life. As a 72-year-old author of more than thirty successful romance novels, Kate had all but given up on finding her perfect love connection. To offset the loneliness of being alone, Kate focused on her writing and her granddaughter ELLIE who lived close to Kate's Texas Hill Country home and spent a lot of time with her grandmother. While the first two books of her newest Passion series had been best-sellers partly because of the help of her secret collaborator, Captain EDWARD PEREGRINE, Kate had experienced a creative shut-down of getting the third book even started. Her publisher was pressuring her to put more explicit love-making scenes in her novels which went against Kate's principles since she believed love was more than just sex. Then Edward apparently had walked out of her life. Frustrated by these events, Kate and Ellie embark on a two-week cruise to the Panama Canal that would hopefully allow Kate to get her creative juices flowing again and prove she could write a book without Edward's help - after all, he wasn't real. At the beginning of the passion series, Kate realized she had little knowledge of the life of a pirate and that she would need help getting the first book started. In desperation she implored the universe nightly to send her a pirate who could provide help and insight with the plot of the first book. One night during a particularly strong thunderstorm with intense lightning, Kate woke suddenly as a bolt of light and the simultaneous crash of thunder shook the bed. Adjusting to the dim light in the room, Kate could make out the figure of a very handsome but confused man, dressed in the garb of an 18th century pirate, standing near the window of her room. She asked how he got there but he said he only remembered being on his ship when a powerful bolt of lightning hit over him and the next thing he knew, he was in her bed chamber. Rationalizing that he was probably just a figment of her imagination, she began talking with the apparition and was happy to discover that his Scottish brogue was quite pleasant to hear. In time, the two became friends and he visited Kate often at night when they would bounce ideas off of each other until the first two books in the series had been successfully completed. The plot of the third book had produced an argument between them over the direction of the book and Edward stormed out of her life and had not returned. Edward finally returned to Kate the first night of the cruise. They made up for their argument and the two began collaborating on the third book – The Fiery Passion of a Thousand Burning Suns! After Edward's visit, Kate was able to finally make progress with her book and was well into the first draft after a few days. Kate's personal life was also making wonderful progress as their dinner group included two very attractive and available men, DAVID MITCHELL, a professor traveling partly on business and partly for pleasure, and MARCO ANTONINI, traveling with his sister. Both men offered Kate the love possibilities that she so desired and opened up feelings that she had long suppressed. Edward was pleased that Kate had found the possibility of love but his feelings for her were becoming more obvious during their nightly dream visits. Edward was tenderly demonstrative and his good-byes had progressed to caressing her cheek and gently kissing her on the forehead. Kate was confused by his actions especially due to the age difference but Edward assured her that in his existence, there was no age. The cruise sailed through some of the same ports that Edward had visited in her book which only increased Kate's feelings for Edward and for the life she had created for him. Little did Kate know that troubled waters lay ahead or that she was in for the adventure of her life as a merge of the time continuum brought forth conflicts and desires that upset the tranquility of her life but brought her closer to realizing her dream of true love.

Reviews
"A fun and lively read about romance, and the real and imagined adventures of a woman writer cruising through her senior years. Margie Seaman proves age is no obstacle in this swashbuckling debut novel."
-Lise Olsen, author of Code of Silence
Click below to read Amazon reviews.

---
From the Author: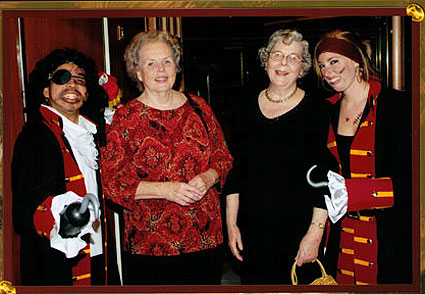 "Most of action in this book takes place on a cruise ship. Luckily, my sister-in-law and I had spent many years cruising from Hawaii and the Caribbean to Alaska and from the Virgin Islands to Canada. Those years brought experiences that I have used in the book. It also brought about encounters with fierce "pirates" aboard our cruise ships which may have influenced my adding a pirate to the story."
"Writing a book was something that I had wanted to do since I was fifteen years old and my high school English teacher told me I should become a writer. However, writing a book never made it to the top of my priority list during my teens and I always kept thinking I would do it "next year." I mean - I had unlimited next years in my lifetime, right? Between my twenties and forties, being a mother and having a career took up all of my free time and the book again was relegated to "next year." During the years, there were plots rumbling around in my head and some half-hearted attempts were made at starting a story but nothing ever went past the planning and first couple of pages stage.

October of 2016 brought an ominous reality to my consciousness. I turned eighty years old. Eighty!!! How did that happen? Where were my unlimited "next years?" Suddenly, the realization hit me that if I were ever going to do something about the book, it better be soon. The only issue was that after sixty-five years of being a practiced procrastinator, I still was dragging my feet. It took a final challenge to get me focused and ready to finally achieve my dream.

As a web designer, one of my clients, Loren Steffy, was a journalist and non-fiction writer who had just written his debut novel, The Big Empty. In a conversation we had, he mentioned that he hated something with "the passion of a thousand burning suns". I replied that his comment sounded like the title of a cheesy romance novel with handsome pirates and beautiful, lusty maidens. He told me to "write it." Something clicked in my head. The gauntlet had been thrown down. It was now or never and from that chance remark, Someday Belongs to Us was born. The timing was perfect even though I was eighty-two. I had spent the previous twenty years with my sister-in-law cruising every chance we had. I used the cruise ship as the background environment for the book, added a little space-time continuum mix-up, a gorgeous pirate, plus a cast of other wonderful characters that just popped into my head. Writing this story as a book within a book gave me the opportunity to develop the character of the eighteenth century pirate as he lived his life on the sea. The fun began when my main characters, Kate Caldwell and Captain Edward Peregrine mysteriously became enmeshed in a worm hole of time and their lives were joined.

Completing the book and realizing my dream at an advanced age only reinforces my belief that life is wonderful no matter what your age and that goals can always be achieved if you work hard enough for them. My optimism is shown by planning this book to be the first in a trilogy. Think I better start the next book, time is passing!"